The Detroit legend is resigning amid sexual harassment allegations. His supporters are shocked, angry, and preparing for "utter chaos."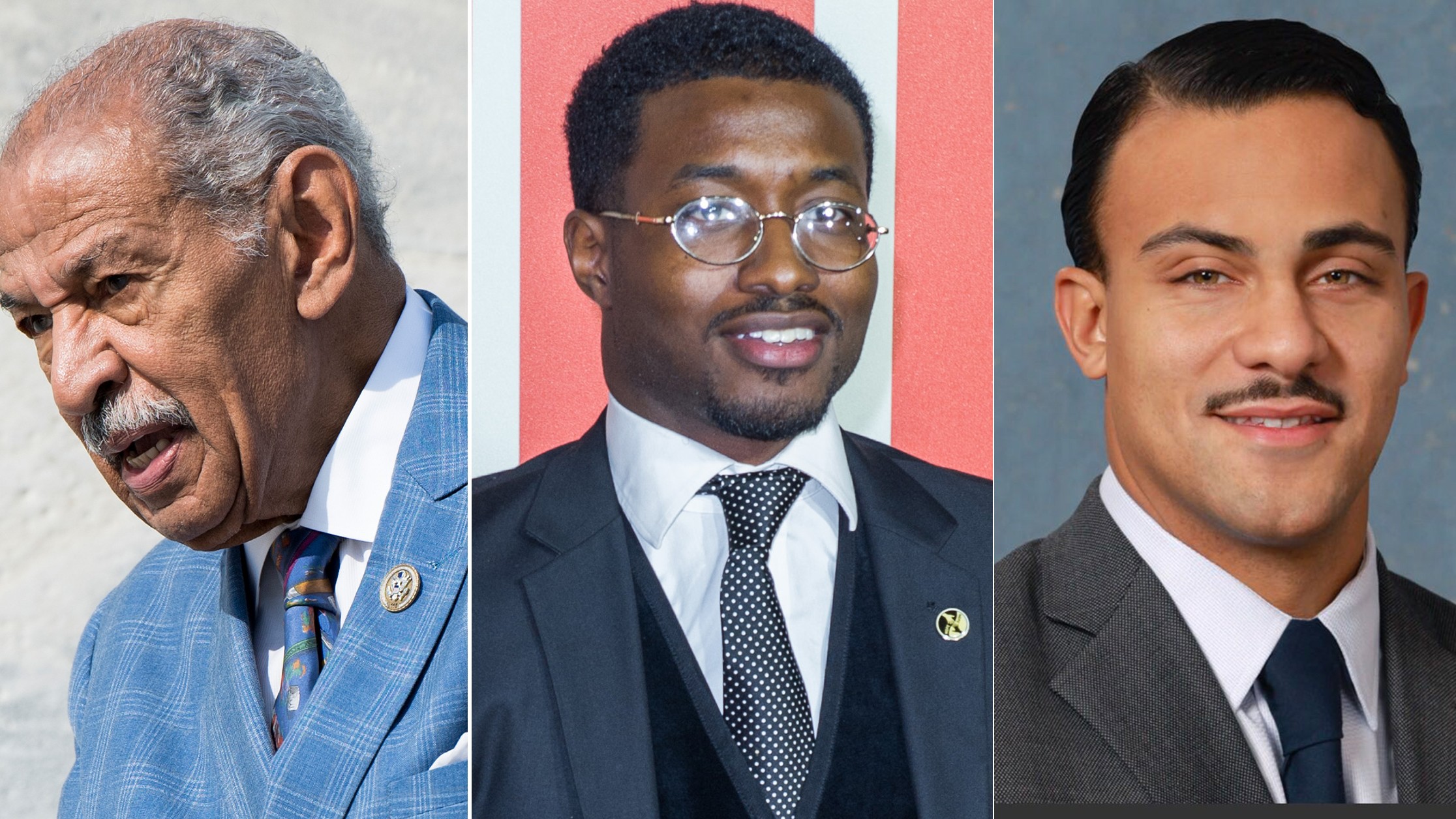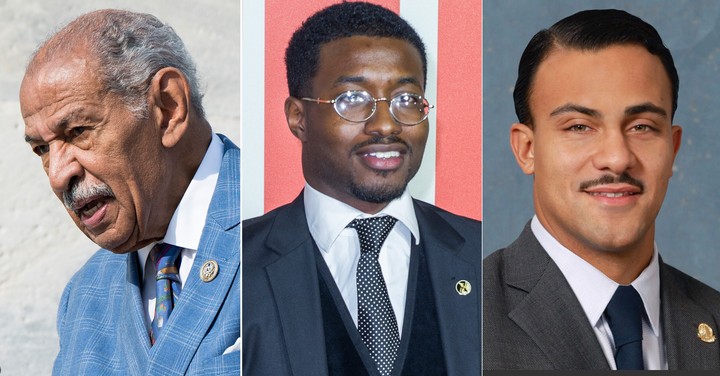 From left: John Conyers, Jr.; John Conyers III; Ian Conyers. Photos by Bill Clark/CQ Roll Call, Aaron J. Thornton/Getty, and Wikipedia user Jenniemarie73
On Monday morning around 200 people, including clergy, politicians, and community leaders, packed into the pews of the Hartford Memorial Baptist Church in northwest Detroit, a 100-year-old institution that claims a place at the forefront of the civil rights movement and once hosted W.E.B. DuBois. Standing before an enormous pipe organ and stained glass windows, Michigan State Representative Sherry Gay-Dagnogo led a rendition of the black spiritual "I Shall Not Be Moved" (Just like the tree that's planted by the waters, I shall not be moved / Though all Hell assail me, I shall not be moved), then thanked God for the opportunity "to lift up a man who has done so much—not only for the 13th District, not only for the state of Michigan, but for our country..." She was still mid-sentence when the crowd interrupted with an eruption of applause. Several minutes later the prominent Detroit political activist Sam Riddle led the church in a raucous chant. "In Detroit, we fight back!" Riddle proclaimed. "In Detroit,We! Fight! Back!"
ADVERTISEMENT
They were talking, of course, about
John Conyers Jr.
, a civil rights hero, the founding member of the Congressional Black Caucus, and the longest serving member of the House. Less than a week earlier, the 88-year-old had flown home to Detroit from Washington, DC amid a cloud of scandal and uncertainty: On November 20
BuzzFeed reported
that Conyers had settled a wrongful dismissal claim by a former female staffer who alleged she was fired for refusing repeated sexual advances—a bombshell revelation that shed light on Congress's previously "secret mechanism" for settling harassment claims. Documents obtained by BuzzFeed revealed that former staffers said that Conyers used taxpayer funds to fly women to him; a lawyer who used to work for him said he verbally abused her and
appeared at a meeting
in his underwear.
Conyers quickly admitted to the financial settlement while denying the sexual harassment claims, but as
the accusations piled up
a chorus of politicians across the country and in Michigan, including numerous Democrats, called on him to resign.
On Tuesday morning, the congressman, hospitalized reportedly for stress-related issues, called into
The Mildred Gaddis Show
, a popular Detroit radio program, to
address his constituents
: "I am retiring today," he said, though he again denied the harassment allegations. "I have great family here," he continued, "and especially my oldest boy, John Conyers III, who incidentally I endorse to replace me in my seat in Congress."
Conyers joined a long list of men who have lost their positions of prominence and power due to allegations of sexual assault and harassment—a list that has since grown to include
Minnesota senator Al Franken
. But in Detroit, where Conyers's stature as a living civil rights icon is unmatched, his abrupt retirement left a large segment of the city reeling, with many supporters alleging a failure of due process that amounted to implicit racism. "In America you're supposed to be innocent until proven guilty," National Action Network Michigan chapter president Reverend Charles E. Williams II told me, "but if you're black you're guilty until proven innocent.
The battle over who will replace Conyers—who has held his House seat for more than a half-century—is also a family drama. Though the congressman endorsed his son, the elder John's grand-nephew Ian Conyers also intends to run for the seat. "I expect for it to be utter chaos," the Reverend David Bullock, a prominent Detroit civil rights activist, told me. "I think this creates a huge void and power vacuum that we have not prepared for and are unprepared to deal with."
John Conyers III is the 27-year-old son of the legendary congressman and his wife Monica Conyers, a former Detroit city council member who served prison time after
pleading guilty
to taking bribes in a massive Detroit government corruption scandal. (Riddle, the political activist who supported Conyers at the church rally, was also implicated.) Until this week he had virtually no public profile, although in 2010, when he was 20, he gained some local notoriety after it emerged that he had been driving a government-registered Cadillac Escalade in his father's district. After parking the vehicle in downtown Detroit, Conyers III reported two laptops and $27,000 worth of concert tickets—a sum so high likely because of
Conyers III's connection to rapper Big Sean's Finally Famous crew
—had been stolen in a break-in.
In 2013, Conyers III released
a rap single, "Rich Glorious,"
in which he references the incident. His
bio
on Huffington Post, where he's listed as a contributor, describes him as a former intern with the Israeli embassy and "a partner at Detroit's first minority run hedge fund" who "he has partnered with major film studios, record companies and book publishers" in LA as a consultant. His Twitter bio links to
EIA All Weather Alpha Partners
, a Detroit hedge fund. (I reached out by phone and email to confirm his employment there, but did not get an immediate response.)
On Wednesday
NBC News reported
that in February Conyers III was arrested in California for alleged domestic abuse. After reportedly going through his girlfriend's computer, Conyers III "body slammed her" and "spit on her"; when she tried to call police, he allegedly chased her then ended up cutting her arm with a knife, according to the complaint. Conyers III told police that his girlfriend was intoxicated, she initiated a shoving match, and that she was cut by the knife in a struggle after she threatened him. He was not charged over the incident.
A Detroit TV station also reported
that Conyers III, who was seen driving a family vehicle to the airport Tuesday morning, has had his driver's license suspended a half-dozen times, including for the past two and a half years.
"If JC is endorsing him, I just say I wish him the very best," Shawn Campbell, who worked in Conyers's Detroit office from 2006 to 2016, told me. "After witnessing him"—Campbell said he was familiar with Conyers III after having seen him frequently around the office— "I'm pretty sure he has a pretty decent understanding of what goes on."
---
Other Conyers supporters echoed the same sentiment: If John Conyers was supporting his son, it must mean something. "I mean Conyers has served for 52 years and he knows what it takes to be in Congress," said Williams II. "Let me put it this way: At the end of the day that's his wish, and because that's his wish it's worth taking a look at."
Yet it isn't totally clear that Conyers III will in fact run: On Tuesday night, the would-be successor—who has not otherwise spoken publicly since his father's retirement—
praised the achievements of his dad on Twitter
and said he was honored "that my father endorses me as his successor in his congressional seat." But he also said, "I have not concluded if I will be a candidate," adding that he expects to make the decision by the end of the year.
Whether Conyers III runs or not, the election to fill the open seat, the date of which will be set by Republican Governor Rick Snyder, will also feature Ian Conyers, the congressman's grand-nephew and John III's cousin. Ian is a 29-year-old who worked as the Democratic Party treasurer for Conyers's district and last year was elected as Michigan's youngest-ever state senator. He announced his candidacy even before Conyers announced his retirement—effectively preempting the endorsement of his cousin.
"I didn't expect him to make an endorsement," Ian later told the
Detroit
Free Press
by phone from Israel. (He did not respond to a request for an interview.)
Ian Conyers
has said
that his grand-uncle had actually encouraged him to run, but Monica Conyers, at least, took sharp offense to her grand-nephew's announcement. "Please know that I don't like the opportunist (sic) or disrespect," she posted on Facebook, the
Free Press
reported on Tuesday
. "One you did not consult with our family before you made such an announcement. Ian Conyers is not endorsed by the Congressman. Nor is he authorized to make any statements or comments on behalf of him."
Yet many in Detroit—even some adamant Conyers supporters—are wary of a political dynasty, and question the ability of either potential family successor to fill such an enormous seat.
"Truth of the matter is it takes more than half a teaspoon of sperm & derivative DNA to replace Congressman #JohnConyers," Riddle
wrote on Twitter
.
Coleman Young II, a longtime state senator who recently
lost a bid for Detroit mayor,
will also run, his mayoral campaign manager, longtime Detroit political consultant Adolph Mongo, told me. ("I could get a high school student if they're going to push his son," Mongo said of Conyers III.) More than a half-dozen other names are also being floated, including two Detroit city council members, a former Wayne County sheriff, and current and former state lawmakers from both Detroit and nearby suburbs.
The biggest concern, said Bullock, was that the flood of candidates would end up producing a winner—African American or otherwise—who is not a powerful voice for black issues in the same way Conyers was for decades. "I think we need someone who is in that tradition," he said, citing Conyers's persistent leadership on issues like slavery reparations. "We run the risk not only of losing a man and a legacy but losing a political tool."
But days after the abrupt retirement, many Conyers supporters are still coming to terms with the sudden, ugly departure of a man who had become an institution. Despite the claims by multiple women, a large contingent of former Conyers staffers remain unwavering in their support: Campbell and another former staffer, a woman in her 20s who worked in the Detroit office and spoke on the condition of anonymity, strongly doubted the allegations, including those made by original accuser Marion Brown, who
told the Today show
that the now ex-congressman "just violated my body" and repeatedly invited her to hotels to proposition sex.
Even Detroiters who believe the accusations feel they've lost a legend.
"You're talking about a man who put the Humphrey-Hawkins job act [a bill requiring the government to guarantee employment levels] up almost every year for the last 20 years," said Williams II. "I mean he believed, optimistically, that the world would stop for Martin Luther King once a year… He was like the Mr. Smith that went to Washington that stayed in Washington for 52 years."
Bullock said he was deeply disappointed by the way the congressman resigned, appearing to hide behind his lawyer as the scandal mounted and then retiring in an apparent political maneuver. But he still recognized the gravity of Conyers's departure.
"It's a major loss," he said. "I don't think there's room in politics for mourning, but I think there should be."
Trevor Bach is a journalist based in Detroit.
Voting is beautiful, be beautiful ~ vote.©