He is going to do the dramatic Hollywood style ceremonial "filing of the complaint" on the courthouse steps.
I am excited to see the video and what he is going to do with it for his campaign, because you know he is going to use the federal litigation for his campaign.
Well, the days of the political drama have been, oh, let us just say, have been placed under the lens of the cyber community, so all eyes shall be watching this case, in real time.
To begin, let us exam the reason why Michael is filing this lawsuit.
On second thought, that would be a waste of time so I am just going to identify his motivation to file the lawsuit in the title of the article, below.
He is filing to launch his campaign, and not for the greater good of society.
I say this because a congressional seat does not belong to a man nor is it an American title of nobility; it belongs to
all
people of the 13th Congressional District of Michigan, not just a targeted population of Detroit.
Can one use federal resources, in this case, the federal court, for a political campaign, particularly if the suit of law is for the seat you are attempting to sway to public to win?
This is a questionable way to kick off a political campaign.
This is also the part that where I defenestrate my reservations and remain consistent.
There is a formal process for a Member of Congress to resign
and it is my belief that process was executed in a fraudulent manner.
The following is copy of the Congressional Letter of "retirement" of John Conyers, Jr. which was found published with media outlets.
That does not look like his signature to me and I should know.
How could he sign a letter dated December 5, 2017 and enter it into public record
when it was reported that
he was hospitalized, medically incapacitated, November 30, 2017 in Detroit?
Hmmmmm....
According to media reports, Conyers'
"retirement" was lobbied by a non-governmental, unlicensed attorney, and other Members of Congress,
despite the fact that
Arnold Reed was retained to represent Mr. Conyers.
Hmmmmm....
Date of signature: December 5, 2017
Date of signature: July 7, 2007
Date of signature: November 18, 2017


Date of signature: December 16, 2016
Only one of these signatures from United States Congressional Letters, is the real signature of John Conyers, Jr.
Can you guess which one is his?
See,
I know what Nancy Pelosi did last summer,
and the summer before that, and so on, with Bitch Boy, which is another reason why I speculate the legality of the process, because Nancy has been terribly mean to my Sweetie for quite some time.
I challenge the veracity of Mr. Conyers' voting record and policy positions because
people
have been
forging his signature on congressional letters
, for a long time, which is
why I did this.
Original signature of John Conyers, Jr.
I was quite shocked when I found out how much individuals were getting for his forged signatures on congressional letters.
Quintessentially, if there are relevent questions raised surrounding the legitimacy of the "retiring" of Mr. Conyers, perhaps, this is the real reason why there will be no special election, as there are multiple, ongoing federal investigations.
It is just a jurisdictional issue that would immediately halt any state "retirement" process.
But, hey, what do I know?
A candidate for the U.S. House seat vacated by former U.S. Rep John Conyers filed a lawsuit against Gov. Rick Snyder demanding that the election be moved up to an earlier date.
On Dec. 8, Gov. Snyder had announced that Conyers' congressional seat would remain empty until the regularly scheduled November election, leaving it vacant for nearly a year. What's more,
political observers have pointed out
that since the post will be listed twice — once in the August primary and again in the November general election ballots — the office could be held by two different people before January is out.
In short, the move would leave Detroiters without effective representation for 11 months — and perhaps even longer.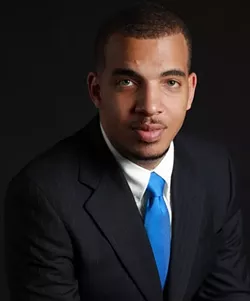 As the Associated Press noted earlier this month
judging by a review of roughly 100 vacancies and successors listed on the House website for the last 20 years, it is unusual for a congressional district to stay vacant for so long. Eleven months would be the longest time a House seat stayed empty during that period.
Gov. Snyder had said his decision would both save money and give candidates ample time to campaign. But given his role in establishing Emergency Management in Michigan, this situation calls another lawsuit to mind — namely one filed by the Detroit Branch of the NAACP against Gov. Snyder that Emergency Management has violated the voting rights of the state's African Americans, effectively stripping representation away from residents in majority-minority cities and school districts. By some estimates, more than half of the state's blacks had their representatives overruled by Snyder-appointed viceroys.
None of this is lost on candidate Michael Gilmore, who has announced his intention
to sue the governor over the scheduling of this election
:
"Gov. Snyder continues to treat residents of urban areas across the state as second-class citizens and is violating a laundry list of constitutional laws in doing so," Gilmore said in a statement released today. "By holding this congressional seat vacant for 11 months, he is denying minority residents of the 13th Congressional District the right to vote and the right to be represented in Congress. This is yet another attempt to further silence the voice of minorities in the state and disregard their views. From putting emergency managers only in minority school districts and city halls to signing off on the Flint water crisis for fiscal benefit, Gov. Snyder has historically cited cost-saving measures as his reason for denying civil and human rights to urban areas. Here, he is once again attempting to balance the state's budget on the backs of Black people, in the name of 'cost savings.'"
Gilmore says he will discuss his lawsuit against Gov. Snyder at 10 a.m. Tuesday, Jan. 2, 2018, at the Fort Street entrance of the Theodore Levin United States Courthouse, Detroit.
One man hoping to win an empty congressional seat is suing the governor for waiting until November to fill the seat. Most residents have a representative in Congress until the next election.
However, because Congressman John Conyers resigned in 2017, and Gov. Rick Snyder set an election to fill his seat starting in November, residents of the 13th congressional district will not have a representative in Congress for 11 months in 2018.
"Governor Snyder continues to treat residents of urban areas across the street as second class citizens," Michael Gilmore said. Governor Snyder has historically cited cost saving measures as his reason for denying civil rights and human rights to urban areas," he said.
The governor does believe setting the date for the special election in August and November on the same dates as the regular general election will save local taxpayers up to $2 million.


"Divide $2 million by the 658,000 residents, that totals roughly $3 per person," he said.
Gilmore calls this systemic discrimination in the 13th congressional district, which he says is composed of over 62 percent minority residents.


"He is once again attempting to balance the state's budgets on the backs of black people in the name of cost savings," he said.


Gilmore is also a candidate for this seat. Might his lawsuit be self-serving?


"I don't believe this is self-serving, in fact I'm actually quite ashamed that I'm the only one talking about it," he said. "Donald Trump has already begun to illuminate important social programs that we need in this area, and no one else is talking about it?"


Gilmore says that typically vacancies are filled within a few months and he has asked the federal court to make a quick ruling hopefully by the end of February. There's been no formal response from the governor's office.
http://www.fox2detroit.com/news/local-news/candidate-for-conyers-seat-suing-governor-for-waiting-to-fill-vacancy
UPDATE: I am impressed with the finess of Charlie Langton.
Stay tuned.
Voting is beautiful, be beautiful ~ vote.©