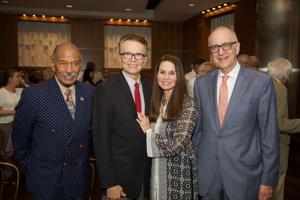 Top officials of the Smithsonian Institution – and Rep. John Conyers, dean of the House of Representative – saluted music curator John Edward Hasse upon his retirement from the Smithsonian on June 30, bringing to a close 32 years of distinguished accomplishments. Hasse was hailed by David J. Skorton, secretary of the Smithsonian, John L. Gray, director of the National Museum of American History, and Rep. Conyers, who inserted a tribute into the Congressional Record. Video of the ceremony can be seen at
https://goo.gl/aFPpoV
.
Hasse, a 1967 graduate of Vermillion High School, was hired as Curator of American Music by the Smithsonian's National Museum of American History in 1984. In that capacity, he founded national Jazz Appreciation Month and the Smithsonian Jazz Masterworks Orchestra; curated exhibitions on Duke Ellington, Ella Fitzgerald, Ray Charles, Frank Sinatra, and jazz photography; led the museum's successful drive to acquire the vast Duke Ellington Collection – 100,000 pages of unpublished music and another hundred thousand pages of documents, as well as objects and/or archival materials from Louis Armstrong, Benny Goodman, Jimmie Lunceford, Artie Shaw, Ella Fitzgerald, Woody Herman, Dizzy Gillespie, Miles Davis, Thelonious Monk, Herbie Hancock, Paquito d'Rivera, Randy Weston, Steve Cropper of Booker T & and the MGs, and the 12,000-photo Duncan Schiedt Collection. A highlight was Hasse's acquisition of John Coltrane's Selmer tenor sax and his handwritten manuscript of A Love Supreme, his most celebrated work.
Hasse's books include Beyond Category: The Life and Genius of Duke Ellington; Jazz: The First Century; and Discover Jazz (with Tad Lathrop). He co-produced/co-authored Jazz: The Smithsonian Anthology. He has been awarded two honorary doctorates, two Grammy Award nominations, two ASCAP-Deems Taylor Awards for excellence in writing, and the Nica's Dream Achievement Award. He has contributed articles to The Washington Post, The Wall Street Journal, and eight encyclopedias. Often at the request of the US State Department, Hasse has lectured on jazz, the arts, and leadership in 25 countries on five continents.
John Hasse is the brother of long-time Vermillion resident Paul Hasse, and the son of the late USD professors Gladys and Merten Hasse, whose ashes are interred at Bluff View Cemetery. All five of John Hasse's siblings attended the University of South Dakota: Paul, Trudy, Ann, Ellen, and younger sister Margaret. While attending USD, the three older Hasse sisters were each elected Miss Dakota, breaking records and generating newspaper publicity from coast to coast.
http://www.plaintalk.net/local_news/article_a39662a4-b5cf-11e7-a853-83f7ab40bad0.html
Voting is beautiful, be beautiful ~ vote.©